Skip Navigation
Website Accessibility
Hydrostatic Testing Services
Texas Dive Center, Inc. offers hydro testing services of most types of D.O.T. rated cylinders not exceeding 34" in length and 26" in diameter, both steel, aluminum and fibre from 2000-10,000 PSI test range. We test SCBA, paint-ball and other cylinders as well. Our D.O.T. certified cylinder re-testers do all of the work in-house. Don't be fooled by others scuba dive shops in the region that say they hydro - ask to see their equipment and re-tester certificates from the D.O.T. Don't be fooled by scuba shops that will do a oxygen clean and inspection for nitrox tank fills and stick their labels on the tank as many do not conform to CGA standards and you are risking serious injury.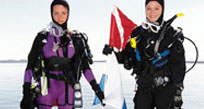 How We Do It
It all starts with conducting a proper visual inspection of the tank. Visual inspections at the time of hydro testing must be performed by a D.O.T. licensed test agency, like Texas Dive Center Inc. of Lubbock, TX in accordance with the Compressed Gas Association (CGA) standards for Visual Inspection of High Pressure Aluminum Compressed Gas Cylinders. We are one of just two PSI Premier Inspection facilities in Texas and have the only PSI Inspectors in our region. The internal and external visual inspection of a cylinder is performed prior to hydro testing of the cylinder. In between hydro re-certifications, the annual visual inspection can be performed by any properly trained technician following the D.O.T. standards for such inspections, such as at our PSI Premier Facility. The inspection consists of checking for cracks and fissures, sidewall stamps, rust, and verifying the correct tolerances for outside diameter, wall thickness, length and straightness. If the tank meets the standards of C-6.1 we affix a sticker. We will not fill cylinders that don't pass our visual inspection of the cylinder. For scuba nitrox divers, we perform the same high standards of a PSI Premier facility for cleaning for Oxygen Service (CGA C-4.1). We will not re-fill a nitrox tank that has not been O2 cleaned and inspected by us due to the high risks to both us and our customers.
| | |
| --- | --- |
| | Certain aluminum cylinders (6351 alloy) will require a Eddy Test. All Walter Kiddie 1972 thru 1989 and Luxfer 1972 through May 1988. If you cylinder is not one of these don't fall for the scam of getting money from you for a Eddy Test as only these were made of the 6351-T6 alloy and require Eddy Testing. So what is an Eddy Test you ask. This is a special electronic inspection of the cylinder neck threads that a visual inspection would not necessarily see. |
Some cylinders may need to be cleaned on the inside, and/or have their valves serviced or replaced. Next the cylinders are put under pressures higher than their normal working pressures. For example a 3000 PSI tank is tested at 5000 PSI. Hydro testing must be performed by a D.O.T. licensed re-test agency like Texas Dive Center, Inc. (I477). Once a cylinder has successfully passed all visual inspection and hydro testing requirements, it is permanently marked with the test date and our D.O.T. licensed re-tester identification number.
COSTS
As they say, "you get what you pay for." So the cost of our service is dependent on

what is needed

to re-certify your cylinder(s). Foremost however, it is based upon what needs to be done to make the cylinder

safe for you

to use. Ask about volume or governmental discount pricing. In addition to these costs, other labor charges ($80 per hour) for basic services may be required and parts/service kits are additional. The cylinder valve may need rebuilding or replacing or other special needs (O2 cleaning) met as well and are not reflected below:
Normal Hydro Testing Fees:
Cylinder Hydro test (incl inspection and air fill) $65
Nitrox Hydro (Tank and tank valve O2 Cleaned, Inspected and gas fill) $145
Eddy Current 6351 cylinders $30

Scuba Annual Visual Inspections $30
Cylinder tumbling to tanks needing cleaning to complete the hydro $40. (Nitrox cleaning see above).

Tank valve service is $45 plus service kits and parts.
Annual Visual Inspection $30. Nitrox tanks needing annual inspection require O2 cleaning of tank and valve in addition to any other service requirements. As the annual inspection of all cylinders require the removal of the valve and inserting a light and probe into it they must be cleaned to prevent any contamination (especially carbon) being introduced prior to refilling.
Extra labor at $80 per hour.