Repairs And Services Available
There is an age limit on the life support equipment we can service, primarily due to parts availability.
If you believe your regulator was built before 2000, please give us a call prior to bringing or shipping it to us. We service what we sell (Oceanic, TUSA, Scuba Pro, OTS and Mares). Other brands we may need to send to our service center. Our Scuba Expert Technicians are highly trained on all of our brands and DOT Hrdrostatic cyclinder re-testing.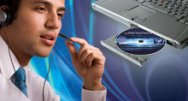 For annual service on life support equipment, we charge:
$40 per stage labor , plus service kit and any parts, for our normal 14 day service, or...
$50 per stage labor, plus service kit and any parts, for 8 to 13 day service, or...
$55 per stage labor, plus service kit and any parts, for 3 to 7 day service, or...
$70 per stage labor, plus service kit and any parts, for 24 to 48 hour service.
For this, we completely disassemble the regulator and clean all of the parts as prescribed by the manufacturer. We then reassemble the regulator, replacing the warranty parts (typically this includes but may not be limited to, the filter, valve seats, and dynamic O-rings), and inspecting all of the components. Once reassembled, the regulator is put on our flow bench and tuned to the manufacturer's specifications for inter-stage pressures, flow rates, cracking pressure (inhalation effort) and exhalation effort.
Annual service for a BCD is $75. For this, we disassemble and clean the inflator valve, dump valve, and overpressure valves, check all the straps and buckles, and do a comprehensive leak test.
If our location is convenient for you, scuba cylinder hydrostatic tests are $58. Visuals are $20, and air fills are include with the hydro. We are certified PSI Premier Facility and utilize their 18-point inspection protocol.
Tank tumble is $40 per tumbling session. Cylinder and valve oxygen cleaning is $87. If your tank valve isn't worth the labor and parts to repair we will install a new valve at cost of the valve with no charge for labor.
We are fearlessly unafraid of offering advice. Don't hesitate to call if we might be able to be of help.
Requirements to Rent Equipment:
You MUST have a VALID certification card to rent tanks, regulators and BCD's.
You must be 18 years of age with a photo id OR be accompanied by an adult over the age of 18 and their signature is needed in addition to yours.
Fill out and sign a Rental Agreement
Have a credit card to put on file for the rental gear
Payment in full
You must return the equipment within one day of the rental due date or additional fees will apply.